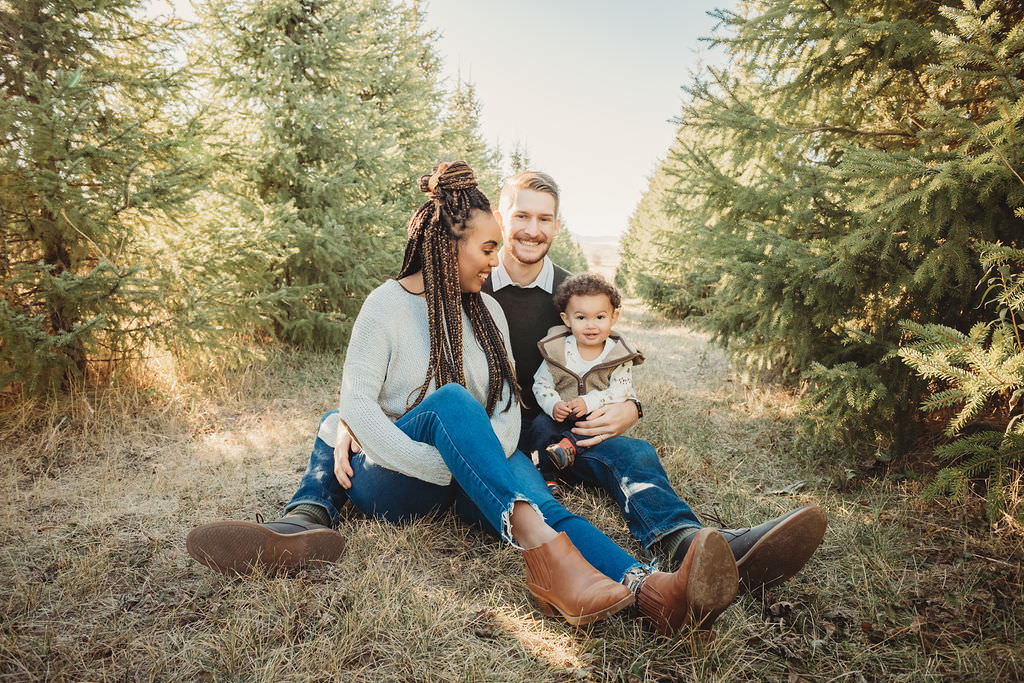 As a natural light photographer, I love sessions when the light is as beautiful as it was for the Williams family session. This Idaho Falls Christmas tree farm session was a perfect mix of golden-hued light and a beautiful family, and of course, the fun backdrop of the tree farm.
Aberash and McKay wanted a fun and casual Idaho Falls Christmas tree farm session with their 14-month old, Ladd. Ladd, the star of the show, was a ham for the camera (he is a selfie-lover), and you can just feel the love they have for their sweet little boy.
McKay had only one must-have shot, a photo of the three holding hands and walking together. We set out with a fairly open agenda, and the result was a fun and beautiful Idaho Falls Christmas tree farm session at the Wolverine tree farm. I especially love the pictures of Aberash throwing Ladd into the air. They are all so joyous!
Another fun detail of the images? The clouds and light dancing through the sky of the images. Between the sunbursts, clouds, and overall glow, these pictures take on an ethereal aesthetic that will have me dreaming of this session for awhile.
Wolverine Christmas Tree Farm Sessions
I still have a few openings for this year's Wolverine Tree Farm sessions. Whether you are looking for some images to add to your annual holiday cards or want a reason to get dressed up (pandemics, am I right?), these sessions are a fun and festive way to get in the holiday spirit.
Tree farm sessions are a great option for families. Whether you are watching your budget or just want a few images edited, these sessions are perfect for children and couples.
Have an idea for a holiday-inspired session? Let's chat!