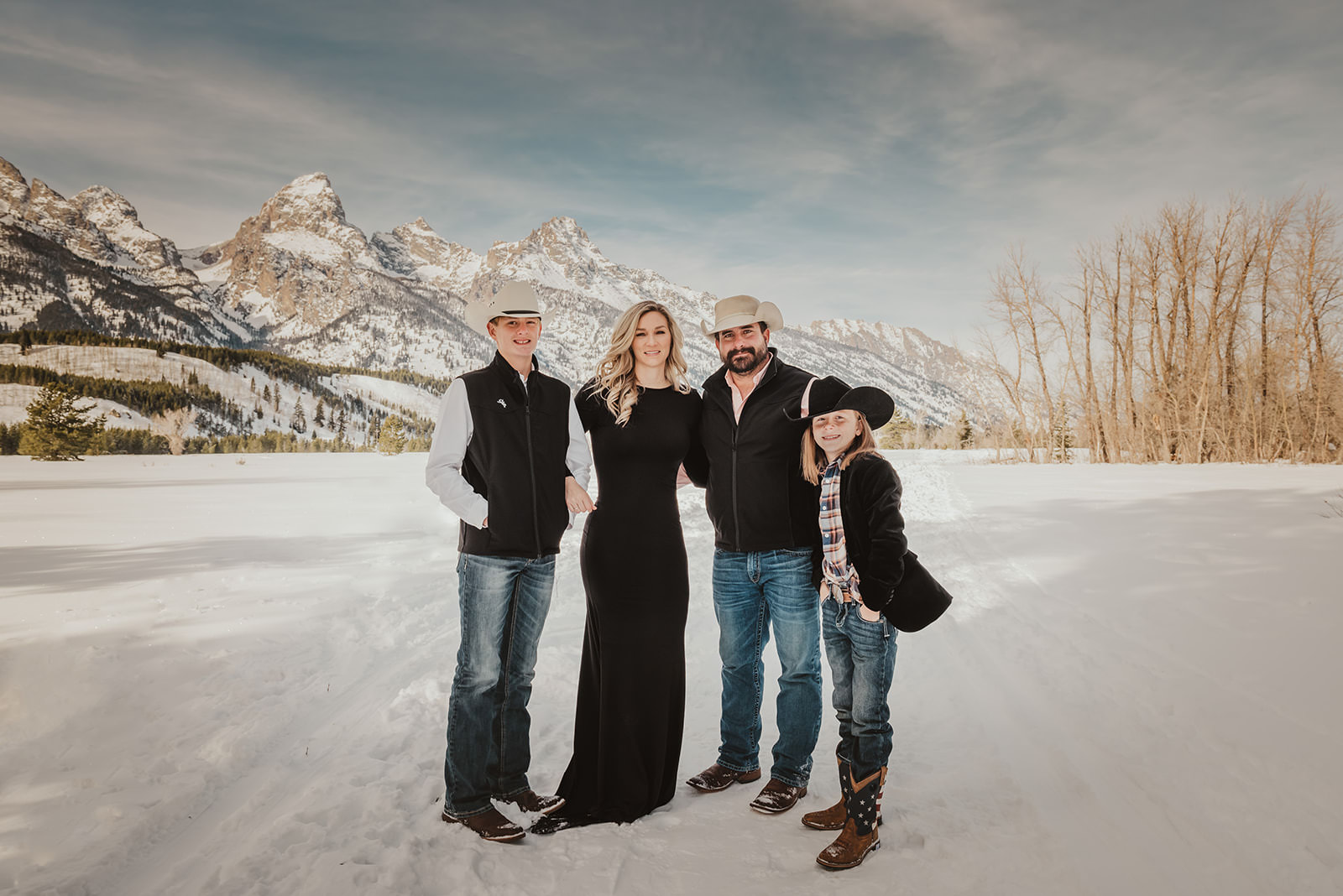 When we moved to Idaho Falls, I expected to restart my photography business and meet fabulous new families. I knew that Idaho and Jackson Hole had beautiful scenery (a given!). I was ready to capture wedding photography and family portraits in new and unique places throughout the area. But what I didn't expect was how easy it would be to combine all of these things to create powerhouse sessions all the time. Being based in Idaho means that I have access to some of the world's most stunning locations right at my fingertips. My clients get the best of the best, and in the result? Sessions this gorgeous. The Bynum family session with the Teton's in the background is just one example (of many) of how lucky we all are to live in such a beautiful place.
The Bynum family session was so much fun. Despite it being snowy (I mean, it is winter after all), we had the best session with the best location. I am obsessed with the cowboy hats and Latisha's backless black dress, which transformed these family photos into an experience.
Idaho Falls, ID, is the Perfect Starting Point for Family Photographs
As a photographer, I am constantly on the hunt for the best locations for my sessions. There is rarely a day off because even as I drive to a session (or even to grab a cup of coffee), I am keeping a mental list of all the perfect spots for pictures. Idaho Falls is the perfect central location to access some of the most breathtaking outdoor locations. I love to work in new places, which is why I'm happy to find locations here in Idaho Falls, the Tetons, Utah, the Valley, Pocatello, Boise, or Rexburg, and more (anybody else have wanderlust these days?). As a photographer, I am happy to take my camera wherever you want to book your photos!
Are you interested in learning more about my services? Do you have the perfect spot in mind (or do you need a little help with finding the perfect spot?)? Please contact me with any questions, to get more info, or to book your perfect session!