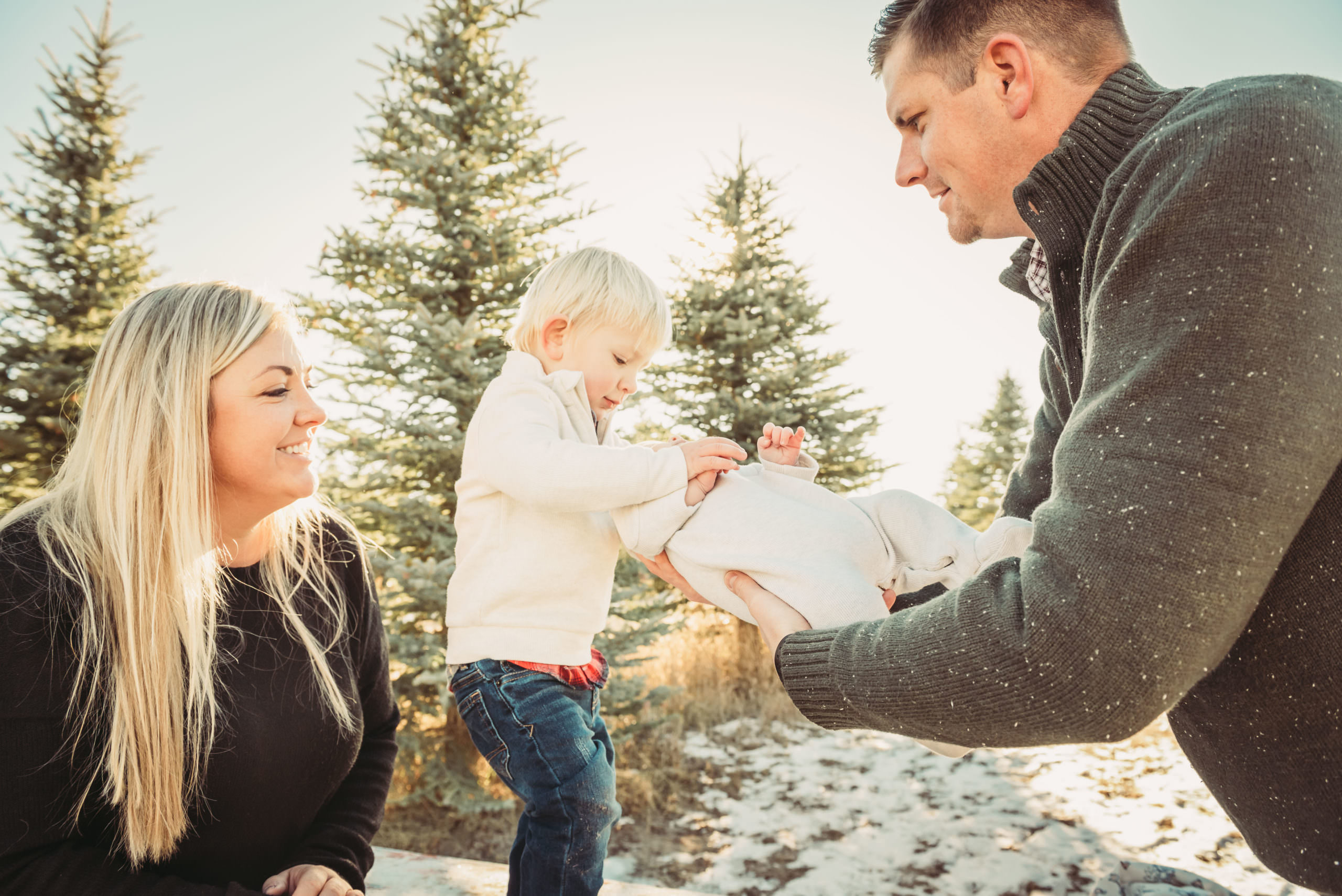 This was such a special session with the Watkins family. I really enjoy getting to meet different families and help them capture special moments in their lives. For the Watkins, this was their first professional pictures as a family of four. See that little bundle in the pictures? Cullen was just six weeks old for this session! Of course, many parents opt for newborn photos, but I love that the Watkins family scheduled some frosty outdoor photos for this Idaho Falls tree farm session.
All of the kids in this session stole the show, in my opinion! Cullen, Merritt (and his stuffed puppy), and even Cal the dog made this session so special. It was so cool to see how they included special heirlooms in this session, too. Merrit's cool bomber jacket? That was his dad's! How cute is that!?
I am so grateful that Adeline and Carson were easygoing because their calm attitude made this session special. This Idaho Falls tree farm was a great meeting point for wintery shots that will look beautiful on Christmas cards or in digital frames for grandparents.
Family Sessions are Easy at this Idaho Fall Tree Farm
Is it just me, or have tree farms gotten super popular in the past five or so years? I remember growing up, if you wanted a live tree, then your family packed up the car and spent the day in the forest. These days, it's easier to find a Christmas tree, especially at this Idaho Falls tree farm.
This season I have been even more appreciative of this spot because we have lucked out having sessions on slow days, where we don't have to fight with a lot of extra people in the backgrounds of our shots. This tree farm is a quiet oasis tucked away, and my clients have been able to enjoy rustic, wintery shots.
Of course, Idaho Falls is home to thousands of beautiful spots, just like this one. I have been adventuring and discovering new hidden gems that I cannot wait to show my clients. Looking for images that will reaffirm your love of Idaho Falls's stunning landscape? Let's chat!